On a picturesque New York afternoon, the concrete maze of lower Manhattan widens and all roads lead to Battery Park. It's a wondrous day, greatly anticipated by a seemingly selected few. A gathering of sharply dressed cliques, primed for a perfect sun-kissed day of polo and debauchery . It's Veuve Clicquot's 8th Annual Polo Classic. On this day, an array of summer colors will descend upon the canvas that is Liberty State Park, and it's very backdrop will be the iconic Manhattan Skyline.
This year (our first, of what is primed to be the commencement of an annual tradition) Veuve Cliquot's star studded event saw the introduction of their Rosé Garden, one of three sequestered areas for taking in the days events. General admission tickets were $65 with an option for an upgrade to first access to ferry's for $125. The Rosé garden option, a total of $530 with taxes, offered a more exclusive experience with a separate entrance and first access to to all the days festivities (ferries, food trucks, divot stomping, and so on). Lastly, another section, positioned closest to the west side of the stables housed the events most beautiful decor and esteemed celebrity guests.
Tickets went on sale approximately 30 days prior to the event (which typically takes place on the last Saturday in May). General and first access tickets were sold out within the hour and Rosé garden tickets were available up until a few days before. Below is a detailed idea of what you get for your buck. All in all, unless your intention is to rub shoulders with a certain crowd, your best bet may be to procure early access tickets. The offerings weren't very different from Rosé, many of whom found themselves on picnic blankets, looking up at the glaring sun.
| | | | |
| --- | --- | --- | --- |
|   | General | Early Access | Rosé Garden |
| Event Admission | $65 | $125 | $500 |
| Ferry Ride To Venue | * | * | * |
| Complimentary Fan |   |   | * |
| Complimentary Sunglasses |   | * | * |
| Complimentary snacks |   |   | * |
| Umbrella Giveaway |   | * |   |
| Blanket Giveaway |   |   | * |
| First Access to Bars, Merchandise, and Food trucks |   | * |   |
| Fast pass line privileges for return ferry |   | * | * |
| Saks Fifth Avenue $100 gift card |   |   | * |
| 1 Bottle OR 5 glasses of Veuve Clicquot Rosé |   |   | * |
| 1.2 mile cobblestone/asphalt walk to venue | * | * | * |
| Dedicated seating |   |   | * |
What to Expect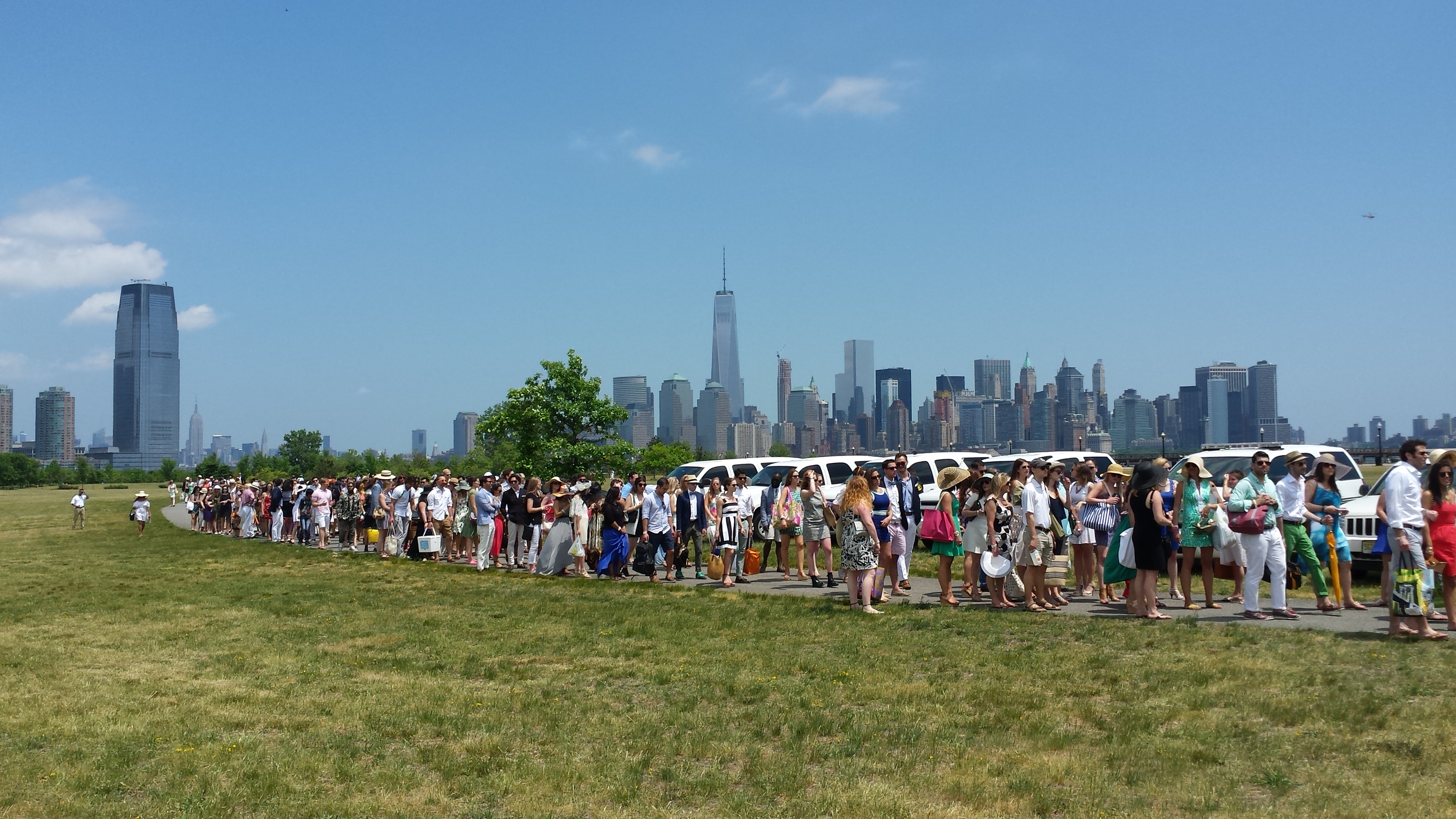 The Veuve Clicquot polo classic is more clicquot than polo, more style than spectatorship, and more pomp than actual circumstance . It is an exhibitionist's game in which polo lovers and female gawkers alike gather to get a glimpse of esteemed polo player Nacho Figueras as he leads team Black Watch through a beautifully choreographed performance. For many, the match is very much like the background entertainment hired at an elaborate barbecue. Still, the Veuve Clicquot polo classic manages to uphold a sense of opulence and exclusivity, all the while being very much open to the general public.
The event begins at 11am and ends at approximately 5pm. Ferries run from Battery to Liberty State Park every 30 minutes until the event ends. We got to Battery park around 1230 and found several other persons fumbling around for the exact area to board the ferry. It would have been nice if there were signs or flags to guide out-of-towners, but it was a relatively easy find. We arrived just in time to catch a departing ferry and the ride took us just over 10 minutes.  Upon our arrival to Liberty State Park, we were surprised to find that there were no provisions to get Rosé patrons to the event. The walk was far longer than anticipated and we soon joined in on the chorus of grunts and moans as we disappointingly got to several spots, only to be told by VC staff, "just a few more minutes guys." Just across the river, the breathtaking Manhattan skyline and Statue of Liberty views could hardly be taken in due to impromptu rest breaks and/or an agonizing need to get to our destination. Once we arrived, with your Rosé band in hand, we bypassed the long admission line and walked right into the garden. VC staff were on hand to take pictures at numerous floral step and repeats. As we ushered along to find seats it appeared most of the seats were taken. Upon bringing this to the attention of the staff, arrangements were made for additional seating and blankets (valued at $75) were given to those smart enough to ask.
A small booth, courtesy of Luke's Lobster  offered the best lobster rolls we had ever tasted. Just as soon as they were made available, they were done. Gourmet ice cream sandwiches were also on hand and equally as decadent. There were many shaded areas and we never experienced the least bit of a wait at the bar.
The Style
More-so than the champagne or Nacho Figueras, the true star of the VC polo classic is the style. It's more or less a casual, I'm really not trying but you so know I did, kind of look. Spring colors are the ticket and it's impossible to go wrong with whites, florals, or pastels. Not sure what to wear to polo? Your best source of inspiration would be to browse through instagram pics using #clicquotstyle, #vcpoloclassic, or @whattoweartothepolo. Here, you'll find tons of pics and styles from the years' previous events. Here are a few of our IG picks from this years' event.
The Polo
While for many, polo is the last on the totem pole of reasons to attend the event, it truly is quite the splendor.  Seeing Nacho and his Black Watch team atop stupendous ponies, with their tails wrapped in clicquot orange ribbons, graze inches of each other is truly a sight to behold. This equestrian sport is not at all the dull , opulent game many would consider it to be. If it's your first time attending, I promise not only a good time but a new cult interest in the sport!