I've always been a bit of a tom boy. As the years progressed, I became far more girly but my masculine wiles remained. As a result, I've always had more male confidants than female. This kinship has made me privy to all sorts of guy code deets. Of recent alarm, is the frequent theme of the boys trips that my guy friends and acquaintances have been taking to Costa Rica or the Dominican Republic (DR).
Three years ago, I never had a problem with strip clubs, boys trips or bachelor parties. While I'm still not opposed, my opinions on these things have vastly changed. A coworker of mine would go to strip clubs almost every week. We all found it a bit too much, and granted that he was married, quite distasteful. We poked and prodded about his experiences, trying to catch him in a lie. He said he never cheated but divulged that he fingered the girls once in a while (Yeah, I know….). He would also go on boys trips with his friends to DR once in a while, but at the time, I didn't know enough about Punta Cana to think very much of those trips.
While working in another department, I met a stone cold sex addict. He was truly the compulsively perverse real deal. He would take frequent trips with other male coworkers to Costa Rica. Once, he invited a few of us from work and we all shared that it wasn't that appealing. "All that's there is jungle," we'd say.  "What are we gonna do there?" "And for a whole week." As we became closer and he became more open about sharing his extramarital activities. He told us that Costa Rica was filled with beautiful prostitutes and that their services were incredibly cheap. In fact, a guy could get fellatio for only $14 or spend the entire night with a beautiful girl for $80.
Since then, I have known or heard of several guys who have traveled to these parts, on so-called boys trips, only to report days and days of debauchery. Recently though, it just seems to be out of control.  Women are sending their boyfriends, fiances, and husbands on these boys trips and bachelor parties without suspicion.
So what's the appeal of Costa Rica and the DR?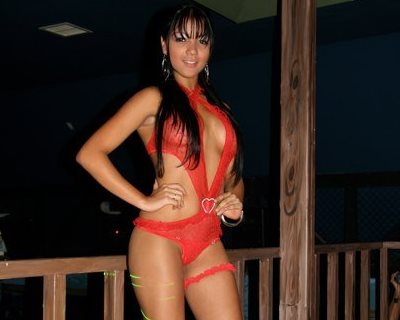 http://www.latintravelvip.com[/caption%5D
Imagine if you could rent a 5 bedroom mansion for 4 nights for just about $2,500. Now, include a personal chef and daily cleaning crew. Add spectacular tropical views, a huge state of the art infinity pool, and finally a boat load of gorgeous Hispanic beauties eager to meet your every need. This is Jaco Beach (Playa Jaco). This is Costa Rica. Let me lay it out for you. Costa Rica has all-inclusive resorts, such as the now very popular Hotel Cocal that provide all-inclusive services, girls included with select accommodations.  It's been coined sexual tourism and though it's become very popular over the last two years, many women remain unaware.
I thought about concluding this post saying, "women, don't let him go." But that's not really the issue. If that's what he's about then a boys trip isn't gonna be the factor that impacts his faithfulness to you. Having gained this knowledge however, I would say that perhaps it's best if boys trips were reserved for single people.
What are your thoughts on boys trips? Is it simply a matter of being secure in your relationship? Or is it better to keep tempting scenarios out of the equation altogether?
Feature image credit: http://www.kombilife.com