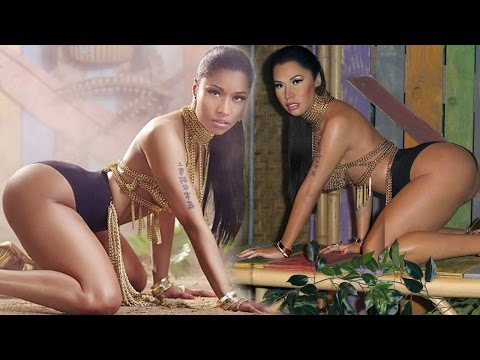 The recent uproar surrounding the degradation of Nicki Minaj's most recent wax figure has spawn much debate. At the head of it all is the claim that the agreed upon image, which took weeks of preparation, acquiring detailed measurements and last but not least, garnished the artist's approval, is in some way a racist ploy on the museum's part. Madame Tussauds, Las Vegas, unveiled the image just last week, to which Nicki herself took to social media and applauded. The female megastar added that she loved it! and regretted not being able to attend the unveiling. Azealia Banks, quickly becoming the most known unknown, (more so for her twitter rants than music) shared that the image of the star was distasteful and would only serve to encourage patrons to partake in indecent or objectifying behaviors.
And then this….
There are so many people in the wrong for this but the "white people" at Madame Tussaud's aren't the ones.

Nicki Minaj is a prominent artist, who along with her undeniable lyrical skills, has long used her sexual prowess to shape her brand. In many ways her outfits, lyrics and the over all way she chooses to carry herself may be deemed hyper-sexualized. At the very least, for tons of people, it can be a bit too much. But she embraces it. She not only encourages the slackness but appears to revel in it as well. The behavior displayed in the above pictures is more or less deplorable (is it tho?). Especially the one in the red-tshirt…….he's just plain awful. But would it be wrong to say it was encouraged?
It's also easy to say, "Why this image?" "Why not another that immortalizes the star in a classier or more artistic sense?" Well Nicki agreed to this. She allowed museum personnel to take the countless necessary measurements required to sculpt the piece. If you've have seen any of the other pieces done by the famous museum, the image most often displayed correlates with whatever iconography for which the artist is best known. Case in point: The Kim Kardashian selfie pose;  Mylie Cyrus and her raw half nakedness; Beyonce and her infamous leotards. To date, Ananconda is Minaj's highest charting single. It went on to smash streaming and digital download records and earned Nicki several nominations including MTVs Best Female video 2015, and the Grammy's Best Rap Song.
Nicki has not made any formal statements indicating disdain for the pics, and my guess would be she doesn't feel nearly as passionately about it as Azealia does. When I shared this story with a friend, offering Azealia's overall stance of racism, the first thing she said was, "this is why people say we [black people] cry race for everything."
Azealia's just so wrong on so many counts.
1. Nicki posted on her Instagram account that she loves the image. Why would you take it upon yourself to add your two cents thereafter about what kind of image they should have used. She doesn't "happen" to be on all fours. It is a mirror image taken from her ground-breaking video.  An image that without any cue, we correlate with the video.
2. As a woman, you should know that there are NO IMAGES OR BEHAVIORS that permit and/or leave any room for a man to defile or objectify a woman. This is a simple case of choices. She agreed to have herself represented in that image. Some museum goers chose to be jackasses (or have a little fun), some didn't.
3. Where the race thing drop een? This is the girls most famous video (500 million views and counting). She is the only female rapper worthy of being immortalized (twice). It's not the museum's fault she chose to be half naked through a video she would be most known for.
When it comes down to it, the only thing the museum should be held accountable for, is not protecting the art. What happened to the guy who shouts "Do not touch the figures. Stay behind the red rope!"
What do you guys think? Does Nicki's or any other celebrity's sex-sells branding encourage objectivity?