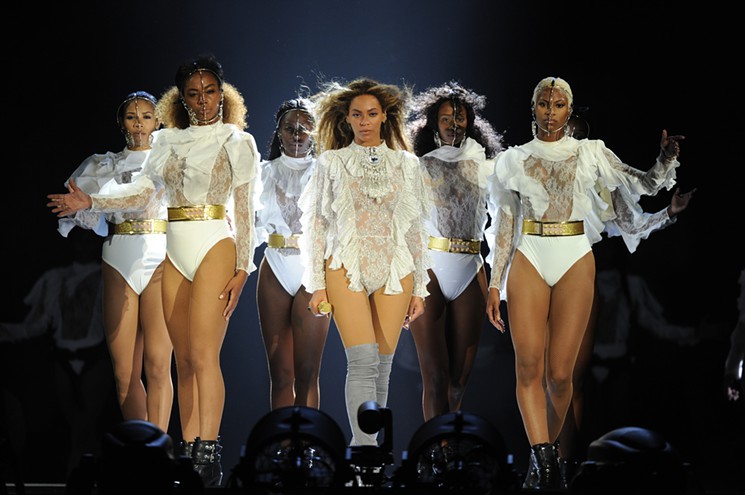 Beyoncé debuted her Formation World Tour last night at the Marlins Park in Miami. I had no intentions of going. A mild-to medium, luke warm kind of fan, I was not prepared to spend hundreds of dollars to go see a tour riding off an, at best catchy, but pleasingly politically correct song. "Where's the album?" "I went to the On the Run Concert, I am not going to watch this girl sing the same songs. I mean, I know she's Beyoncé and all, but how you gonna jus put out one song and expect people to go to your concert."
A friend of mine texted me at 1030 Saturday night, "Bitch are you watching this?!" This," at the time being Lemonade- Beyoncé's 1 hour video collage of her new album. I wasn't. He's a Bey Hive fanatic, and as such I, expect that if she was recorded taking a shit he would lose his mind. I watched it the following morning and was completely taken. I texted him on Sunday saying, "So we getting these tickets huh."
Dj Khaled opened for the singer, and brought along a few of his friends including Yo Gotti, 2Chainz, Future and Lil Wayne. He got the crowd truly riled up for the Queen, just to leave us waiting to the tune of dead air and a Pandora-like mix for an hour. The Miami leg of the Formation tour was not without its flaws. 1. Beyoncé appeared to be lip syncing at the beginning of the concert. 2. She clearly had issues with sound, as she could be seen constantly reaching for the sound-piece in her left ear.  3. The music sometimes seemed to be off with the choreography or her singing.
That said, beyond the hiccoughs, it was legitimately EPIC. Beyoncé is headlining a now sold out stadium tour. To be in a stadium, where the team it has been named after (The Marlins) has never  been close to being filled and see not one empty seat, is in itself remarkable. What's more, is watching someone dance, sing and go up and down an elaborate stage for over 2 hours with just about seconds to spare for wardrobe changes. Perhaps most telling of Beyoncé's influence and celebrity is the fact that she released an album on Saturday, and most all of the stadium was singing along to her new songs.
Highlights for me were the formation opening, the "Cut it" segment and the Freedom performance.
I left the concert, thinking, "This girl is ridiculous. I'm not doing shit with my life." Now, I can't sing or dance, nor do I have a desire to be famous. I don't think Beyoncé is the world's most talented dancer or singer, but her talent is undeniable. I won't pretend she is not surrounded by a team that's perhaps unmatched by anyone in the industry. Some will say it is easy to do what she does when you're surrounded by the best. Those of us who know how much it takes to build anything, know that even when surrounded by the best, the onus is always on the leader of the ship and even if one does not micromanage they are always at least aware of all that goes on.
What I am most inspired by is Beyoncé's work ethic. I stood in the stands reflecting on all that must have gone into vetting/writing these songs, recording them, reviewing individual treatments for 12 songs, filming them, constant wardrobe fittings, choreography review and rehearsals, and finally a 3 month tour. She is always working. She is worth 1/2 a billion dollars, and she's always working. Sometimes I can't bother go work, or I get sick and tired of working on my dissertation. I legit came home and said, "Aidan you make a lot of excuses." People out here having babies, getting cheated on, living in the public eye and still going to work, looking fly and collecting checks…..but you tired?
No excuses! Like what's really going on in your life why you can't go to the gym? We all have the same 24 hours in a day…..what are you doing with yours?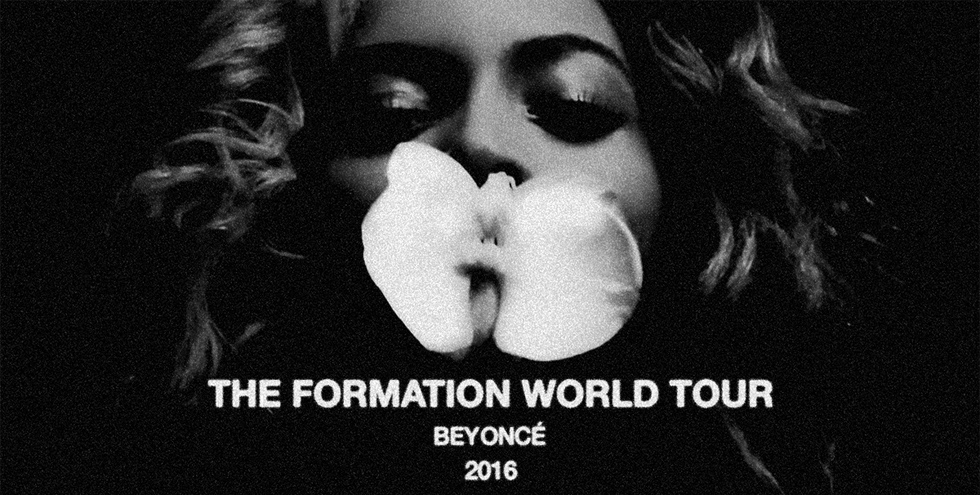 The show wasn't without its share of issues, but she played it off so well that it's hard to unequivocally say some things weren't intentional, plus I'm sure the mistakes will not be repeated. If you haven't gotten tickets, GO. If she's not playing in your city or you've missed it, PLAN A TRIP. It's the closest our generation will ever get to feeling the what it must have been like to see the late Michael Jackson perform.
Featured Image: beyonce.com