Diner en Blanc is an exclusive epicurean delight in which thousands gather to celebrate their love of fellowship, creativity, and food. As diverse as it is opulent, this unclaimed wonder of the world has captivated thousands over the past 26 years. In 1988, François Pasquier launched this concept, with a mere suggestion of gathering with a handful of friends. He suggested a picnic, in which each person was encouraged to bring a friend and an offering of their choice of food. This small gathering soon became a moderate one and so plans were made to meet outside of Pasquier's home.  In an effort to spot each other in this rather public venue, Pasquier suggested that everyone arrive clad in their best all-white outfits. Since then, diner en blanc has become a global phenomenon, celebrated in nearly 65 cities, now playing host to just about 100,000 members a year. This year, Paris alone took in over 15,000 attendees.
Diner en Blanc Miami

Miami hosted their first Diner en Blanc in Dec of 2014. Over 1200 guests basked in this culinary wonder where guests donned their finest white outfits and were treated with a live band, an eclectic dj and fun treats, including the standard sparklers, a balloon release and a model hosted open air photo booth. The official website for Diner en blanc Miami is
Which Cities Host the Event?
Diner en blanc is hosted in almost 65 cities in Europe, Africa, Canada, the United States, South America, the Pacific and the Caribbean. For a complete list of participating cities, click here.
How do I attend?
To attend the event you must be a member or an invited guest of a member. There are rear instances in which a member may be unable to attend and may offer their spots (exclusive of a membership) for sale. To find out if someone is selling their tickets your best bet is to visit the organization's Facebook page and browse the visitors post section. Members may also offer their tickets on the member comments page. To gain full access to this page you must be a member, so your best bet would be the Facebook page.
As a member you are able to purchase an additional one or three tickets. The idea is for your row of tables to have equally paired seats. As such ticket purchasing has been set up to allow for a party of two or four.
How much does it cost?
Diner en blanc prices vary. Across the United States tickets range from $35 to $40, and memberships range from $8 to $10 a year.
How do I find out the date of the next event?
The best way to be alerted on any and all diner en blanc miami updates is by subscribing (ie. following) them on social media, particularly facebook. There is no set recurring date. However, familiarizing yourself of the events last date will offer you a less than finite idea of when the event will be held next. For example, last year's event was held on December 9th while this year's event was originally scheduled for November 14th.
What do I need to prepare?

First off, you need an all white outfit. Not an off-white, ivory, cream, white with some silver rhinestones, white with a black lining outfit, but all white. Organizers are encouraged to be strict and reserve the right to refuse guests if they fail to adhere to the RULES. That said. It is most likely you will not be turned away on d-day, but chances are you will not be asked back.
Failure to adhere to the rules not only tampers with your membership holdings to the miami event, but may also hurt your chances of attending other diner en blanc events world wide.
At the very least, you will need a square, foldable, and easily portable table. The table must be between 28 and 32 inches (71 and 81 cm) in size. It is not necessary for the table to be white as it will be covered b your white tablecloth.
You will also need two white chairs. It is highly suggested that you invest in a cart to carry your items. Diner en blanc often calls for some walking to and from the event so it is in your best interest to find a convenient way in which to carry your items.
Plastic Silverware or utensils are not allowed. You will need at minimum, a plate setting of your choosing, wine/champagne glasses and water glasses.
Decor and Style
Style and decor are most pivotal in planning for the event. So much so, that elaborate prizes are offered to both individuals who are deemed most festively dressed and those who have best decorated their tables. It is all in good fun and many guest welcome the chance to display their creativity.
Food and Drink
Both food and drink are offered by the events chosen sponsors and caterers. In order to enjoy alcoholic beverages at diner en blanc Miami you will have to purchase your choice of wine/champagne through the sites E STORE. Thus far Apothic white and red have been the reigning sponsors for wine, while Perrier Jouet, and Moet have been the sponsors for champagne. You do not have to purchase food from the e-store. In fact, it can become quite expensive and I would advise that you make fun out of developing your own menu, tailored to fit your budget.
How do I get there?
Diner en blanc is held at secret location, that is most certainly sure to wow you. Upon securing a membership, you will be given logging info that will take you to THIS PAGE.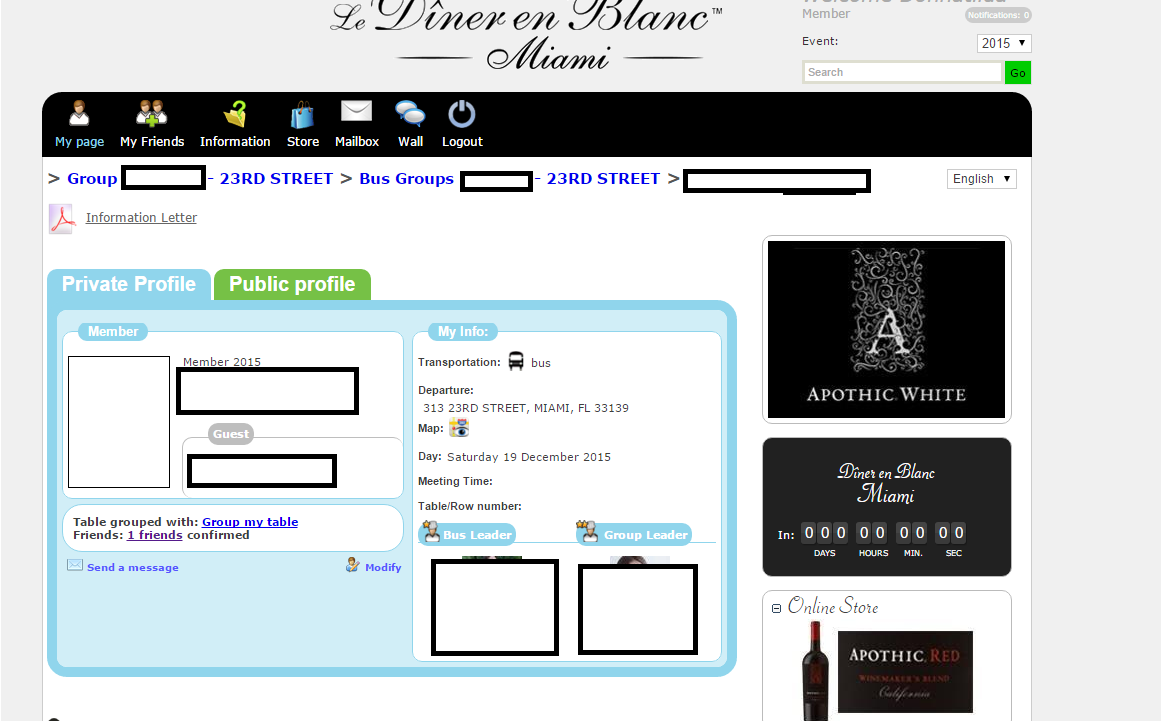 Displayed at the top right will be your meeting spot. Your meet up spot considers a need for parking so there will most likely be room for your car. The challenge you may meet is that most areas in miami permit a 2 to 3 hour maximum for parking. To get around this, once you've parked pay for the maximum. Thereafter, make a note of your parking zone, (take a picture of the zone number displayed at the parking kiosk) and download the PARKMOBILE app. This way you can add time to your parking from wherever you are.
Once the event is coming to a close you will be escorted back to your bus by your bus leader and taken back to your meet up area.
D-Day Checklist
On the day of the event be sure to have the following with you:
10.comfortable walking shoes
1. your tickets!
2. your picnic basket
3. table (s) and chairs
4. silverware, decorations, and plate setting
5. a clear or white umbrella or coat if the weather is labile
6. a lighter for your sparklers
7. a wine opener for your wine
8. a garbage bag
9. wet wipes/purell (cause you never know)
10. comfortable walking shoes
In Review: 2015
This years Diner en Blanc was scheduled to take place on November 14th. Due to more than deplorable weather conditions, the event was postponed. To the dismay of many attendees, especially those from out of town, the event was not cancelled until many patrons were already on their buses headed to the secret location. After their share of apologies, committee members quickly rallied and within a few days a new date (December 19th) was announced. Miami en blanc organizers promised many surprises, offering their concerted efforts to ensure the event went on without a hitch.
Upon arrival to our designated pick up areas, things appeared to be very organized, however we had a hard time locating our bus leader and upon doing so were somewhat surprised and how easy it was to access the bus (ie, she did not even ask to see our tickets). Our bus was slated to leave sometime between 6:15 and 6:30. Unfortunately, without explanation patrons were left on the hot bus until shortly before our 7:05 departure. After this -what seemed to be- minor hiccough, guests quickly got passed their grumbling, and you could palpate the excitement as we all gazed through our windows, speculating about where we were heading. We were all puzzled to til the very end. As we made our way off the I-195, the bus slowly began to ease it's way onto a newly paved road. Beautiful soft beams of blue and yellow seeped through our windows as we drove through the decadently lit streets of the Miami Design district. On-lookers gazed at the spectacular displays affront rows of high-end stores, from Tom Ford to Harry Winston, Miami now had it's very own Rodeo drive, and We would be dining in the midst of it.
The disorganization continued as we made our way off the buses and to our designated rows but my guest and I were too high off what was to come to be readily dismayed. We claimed a spot along our row, left-stage and left of the water feature. With little time to spare, we quickly set up our tables, just in time to be ready for the waving of our napkins. Serenaded by live French Jazz tunes, we cheersed bon appetit and dove into the salads we ordered from Jay Alexanders. Thereafter, it was a joyous night spent with new and old friends as we danced, congoed and sparkled til that sad moment when it came time to leave.
This years Diner en blanc was not without it's obvious challenges. Many will harp on the apparent poor planning and disorganization, and in many cases rightfully so. That said, some consideration must be made for the fact that upon cancellation, organizers were left to pull of a large public event during Miami's busy Christmas season. Bus and group leader positions are voluntary, and so I would suggest that one make the plunge to be the change they'd like to see and volunteer for that role next year. All in all, it was a fun time had by all, and I'm sure the team will only improve in years to come!
See our full Miami en Blanc gallery here!